Virtual Reality

Augmented Reality

Virtual Reality
CREATING IMMERSIVE, ENGAGING EXPERIENCES
From our founding in the early days of computer animation and digital effects, Psyop has always been obsessed with next-generation technology. From VR to AR and experiential installations, our team is driven by the desire to engage with people by designing immersive worlds, and telling compelling stories.
In addition to brand experiences for clients including Samsung and Supercell, Psyop is also developing original experiences to debut on the Oculus Rift and upcoming VR headsets from Sony and HTC.
Kismet, A New Original VR Experience
"Psyop's Kismet has come out of left field for launch on Oculus Rift and HTC Vive, offering an experience unlike anything previously seen in virtual reality. In fact, Kismet is a very different offering to anything experienced with the videogame medium as a whole." - VRFocus
"One of the most pleasant surprises I've found yet in VR. It's a calm, contemplative way to add a bit of peace and magic into your day." - Polygon
"One of the most immersive and realistic environments I've been in so far with the Oculus." -- "Basically some of the highest production values out there for VR." -- "Absolutely beautiful." -- "This is one of the most polished VR experiences I have yet tried." -- "One of the best experiences I've had with my Vive." - User Reviews
Would you like to know what the future holds in store for you?
Put on your Oculus Rift or HTC Vive headset and take part in a first-of-its-kind daily VR experience: Kismet. Developed by award-winning creative studio Psyop, Kismet is a collection of three activities, including a past-present-future Tarot Card reading ("The Cards"), daily Astrology and Horoscope session ("The Stars"), and ancient board game Ur ("A Game of Wit").
Powered by a deck of 22 hand-painted Tarot cards and an accurate real-time map of the solar system, Kismet is meant to be experienced daily, with unique outcomes every calendar day that are directly tied to not only the cards that you choose, but your individual birth date and the actual alignment of celestial bodies at the time of your reading. Seated across a table from an enchanted automaton with the power to look into the future, you'll be transported to a place where magic is real. Named after the mysterious character at its core, Kismet is inspired by the mystic arts of tarot and astrology, brought to life in a beautifully detailed, handmade, gothic style.

Clash of Clans 360
Using the VR technology of the Oculus Rift and YouTube's 360-degree video, Psyop put players directly into the world of Clash of Clans to experience a virtual reality raid for themselves. First revealed to Clash of Clans' biggest fans at ClashCon 2015 in Helsinki, the experience has gone on to rack up an incredible 33 million views and was the most-watched ad on YouTube in December.
You can experience it for yourself via YouTube's 360-degree player.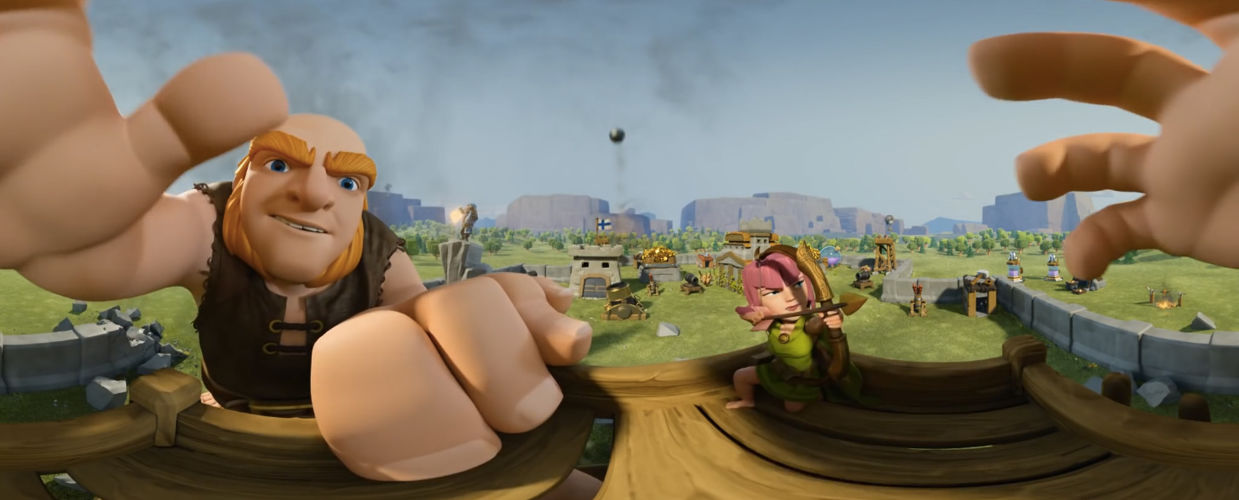 Samsung Galaxy 11 VR
As part of our award-winning Samsung Galaxy 11 World Cup campaign, Psyop created an exclusive, first-person, 360-degree experience for the Samsung Gear VR headset.
Fans of the campaign, which features the world's top soccer players, are able to join the team, strap into an inter-planetary rocket, and blast off to the final match of the series.
David Chontos
Creative Director
David graduated from the Rochester Institute of Technology with a BFA in Experimental Animation and Visual Psychology and joined Psyop in 2006. Since then, he has created award-winning commercials, game trailers, and installations for a wide variety of clients including Xbox, Apple, DTS, and Chevy. Most recently, David has lent his vision to experiential experiences for Microsoft's ReCore E3 Trailer as well as Clash of Clans 360. David combines a unique creative passion and technical aptitude to create fantastic worlds filled with beautiful characters that participate in a well-constructed, thoughtful and interactive narrative.